Last Updated on 18/02/2018 by C-Jay
17-year-old Ryan Sharp, from Dallas, Texas, has been able to sculpt an amazing physique, five years on from when he first started to lift weights.
Ryan became interested in bodybuilding at the age of 12. Prior to this, he'd taken part in gymnastics, which allowed him to build muscle mass through regular training in the sport.
Ryan began to lift weights regularly heading into his teens. But, it wasn't until the age of 15 that he started to make significant progress. This all started after he began to pay more attention to his nutrition.
Ever since then, he quickly began to build lean muscle mass and has earned himself an amazing physique which he now showcases on the bodybuilding stage. He's even managed to earn himself a first placed finish in the Teen Classic Physique category at the 2017 Phil Heath Classic.
Now, he's become a minor celebrity across social media, amassing over 35,000 online fans on Instagram. He regularly shares his workouts via his personal Instagram page and YouTube channel.
Life Revolving Around Fitness
Ryan has had an interest in health and fitness since he was around 10 years old. He took inspiration from his father, who is also a keen fitness enthusiast.
Once Ryan noticed the significant progress he was making through regular workouts and performing gymnastics, he soon became hooked. Here's what Ryan had to say when speaking to the Daily Mail:
'I started bodybuilding for quite a few reasons: I've been really health-conscious since I was like 10 years old, always looking for healthy things to eat and fun sports to keep me fit'

'I've also been conscious about my appearance, wishing I looked stronger, more ripped like Dwayne Johnson. That mindset of needing to be healthy and look like a big, strong man just came naturally to me.

'I immediately fell in love with the art of building muscle when I began seeing results from my workouts. I was doing gymnastics and working out with my dad back when I was 11 or 12, and I started to notice all the lean muscle I was building.

'I realized I have great genetics, thanks to my grandpa who is very lean and muscular. As soon as I saw those muscles start to grow, I got hooked.'
Training
Ryan trains regularly, often up to 4-5 times a week. His lifts revolve around compound lifts such as deadlifts, squats, and the bench press, supplemented by isolation based exercises. His workouts often last between 60 and 90 minutes.
Ryan prefers to focus on perfect form to achieve a mind-muscle connection, which involves him performing high reps with full contraction using a lighter weight. However, Ryan will sometimes perform lower reps with a heavier weight, usually at the beginning of his workouts.
Ryan's current lifting stats include a 363 lbs squat, 233 lbs bench press, and a 385 lbs deadlift.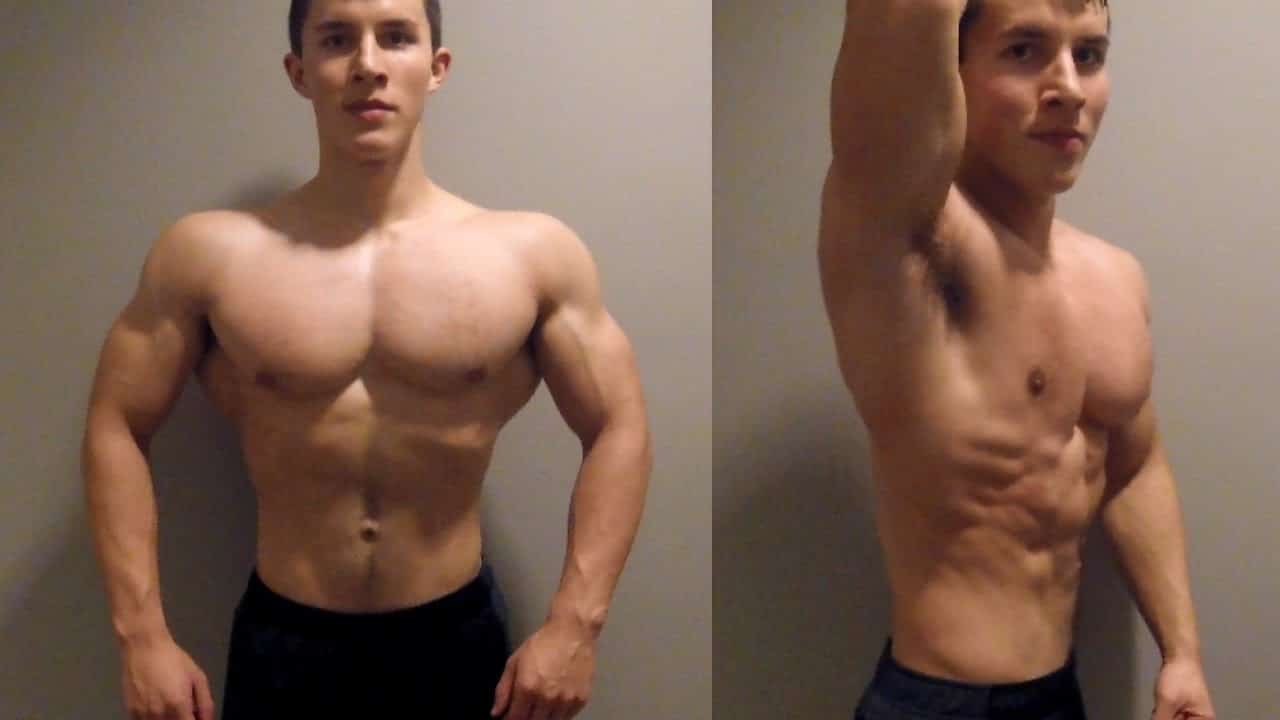 Ryan's Diet
Ryan's overall diet revolves around common 'bodybuilding' foods. Here's a list of his nutritional choices that allows him to continually build lean muscle and sculpt his physique:
Carbohydrate Sources
Rice
Oatmeal/Porridge
Fruits
Protein Sources
Chicken Breast
Ground Beef
Eggs
Fat Sources
Final Thoughts
At the young age of 17, Ryan's progress in the gym so far is pretty impressive. With many years still ahead of him, he certainly has the potential to achieve so much more in his bodybuilding career.
Will he become one of the bodybuilding greats of the next generation? That remains to be seen. Although, the sky really is the limit and we have no doubt he'll achieve great things in the years ahead! Let us know what you think in the comments section below, or on Facebook, Twitter, or Instagram.