Check out my complete Performance Lab Immune review for an in-depth look at this high-quality immune support supplement.
Tired of getting sick when everyone else dodges the latest cold?
I was too until I found the ultimate immune booster: Performance Lab Immune.
After just 1 week of taking these potent vegan capsules, I felt like a new person – full of energy with no sniffles in sight!
Intrigued and want enhanced immunity too? Don't walk, RUN to read my full, honest review of Performance Lab Immune!
I cut through all the hype to tell you why it beats every immune supplement I've ever tried.
Best Immune Support Supplement
Performance Lab Immune
Empower your immunity year-round with Performance Lab® Immune. Especially vital in winter's cold season, it's your daily capsule for sustained health and defense.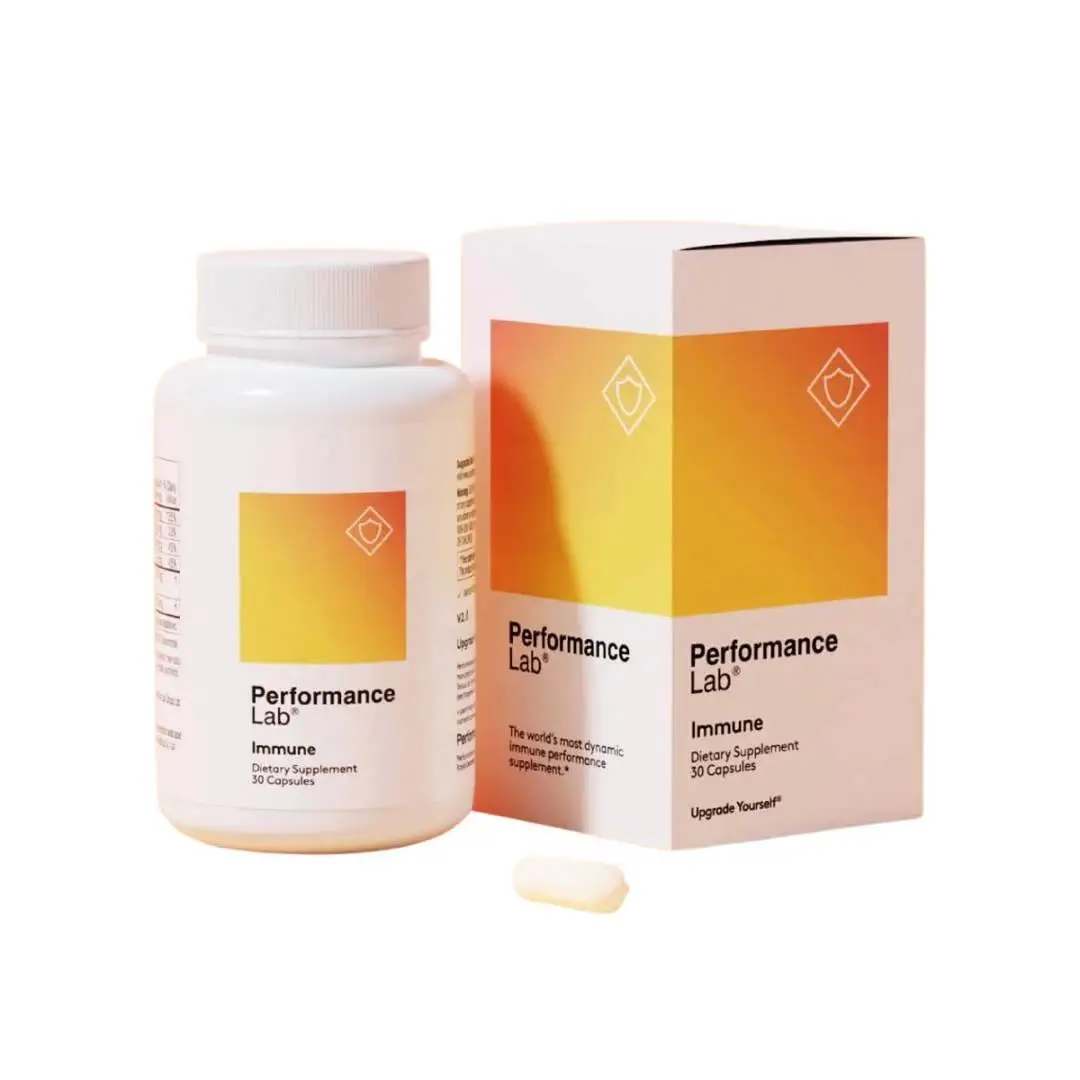 We earn a commission if you make a purchase, at no additional cost to you.
Performance Lab Immune: A Quick Overview
Germs are lurking everywhere – public transit, your coworkers' dirty hands, even your phone screen.
Before you know it, your body succumbs to the endless attacks. Feeling drained and sniffly is no way to live!
Luckily, Performance Lab Immune swooped in like a superhero to save my immune system from the germy villains of daily life.
How? By harnessing the power of its natural ingredients to stimulate my defenses.
No more falling victim to every cold going around the office – Performance Lab Immune gives me an immune force field!
Now I breeze through flu season while others haplessly get sick.
Curious what makes Performance Lab Immune so potent? Keep reading for the breakdown! This mighty formula packs some serious immune punches.
Buy Performance Lab Immune
www.performancelab.com
Performance Lab Immune Review – Ingredients
Vitamin D – 20 mcg
We all know that vitamin D is great for our bones, but new research has shown it also improves the immune system. Studies have even found that low levels of the nutrient can lead to side effects such as fatigue and bone pain—quite an unpleasant combination!
But there's more: Northern hemisphere residents rarely get enough Vitamin D because they're out of sync with its production during winter months when people spend most time indoors.
To give your immune system the best chance of fighting off infection, you'll need to keep your vitamin D levels topped up, which Immune allows you to do with 20 mcg of this vital nutrient per serving.
Vitamin C – 30 mg
A healthy immune system can help you fight off invaders, so it's a good idea to ensure you're getting enough vitamin C. You might not be deficient in this vitamin very often, but that doesn't mean you want an intruder when they come knocking!
There are many ways that the immune system can be compromised. One way is by not keeping your vitamin C intake topped up, which is important in healthy immunity support!
Consider this when you purchase Immune – it contains Vitamin C and other nutrients for a healthier life.
Selenium – 25 mcg
Selenium is a cofactor for many important antioxidants in the body. It can help to reduce the risk of infection and improve immune response to infections by being an essential trace element that works with enzymes involved in producing antioxidant molecules that target different types of free radicals at once.
NutriGenesis® Selenium also comes with immune-supporting properties.
For instance, when combined with L-Glutathione, NutriGenesis®, is 2X more potent in boosting the immune system because synergistic selenoprotein formations create antioxidants that help NK cells and T cells to function optimally.
Zinc – 5 mg
A zinc deficiency may throw your immune system off-balance, undermining its functionality and ability to protect you.
That's exactly why it's important to supplement this nutrient, especially as a zinc deficiency is something affecting many people around the world.
Consistently supplementing your diet with zinc can positively affect the immunity enhancement of T-cells and NK cells.
Lactococcus lactis strain Plasma (IMMUSE™) – 50 mg
Compared to many traditional food-based sources of probiotics, LC-Plasma stimulates the pDC (plasmacytoid dendritic cells) in a more targeted way.
The superior IMMUSE™ covers 4 different immune cells; NK cells, Killer T-cells, Helper T-Cells, and B cells, making it a better option than other probiotic sources.
Setria® Glutathione – 250 mg
Immune from Performance Lab also contains 250 mg of Setria® glutathione. This particular ingredient effectively boosts T-cell numbers, supports normal antibody responses, and also stimulates NK cells.
And when you consider that Setria® glutathione is clinically proven to raise glutathione levels in the bloodstream while supporting your immune system, it's safe to say it's a vital ingredient in the Immune formula.
Does Performance Lab Immune Have Any Side Effects?
Immune is said to be a great supplement for those looking to improve their immune health, as it has been shown to be not only effective but also has minimal side effects.
With Immune being vegan-friendly and free from allergens or synthetic additives, you will feel at ease when adding this into your daily routine.
Performance Lab Immune Review Conclusion – Is It Worth Buying?
While immune support supplements are not a replacement for a healthy diet and regular exercise, they can be an additional tool in your arsenal to help you fend off infection.
If you're looking for the best supplement on the market right now, Performance Lab Immune is our recommendation. It's packed with vitamins, minerals, and more that will work together to boost your body's ability to fight back against illness before it even starts!
So, what are you waiting for?! Get your hands on Immune today to give your body the broad-range immune support it needs for complex immune challenges.