Last Updated on 08/01/2022 by C-Jay
Last Updated: Jan 8, 2022 @ 2:39 pm
If you're someone who's even mildly into fitness, pre-workout supplements will surely be something you at least have a bit of familiarity with.
For those who don't, they're practically designed to do what they say on the tin – you take them before your workout, and they help you remain focused and energized throughout.
The problem is that pre-workout supplements aren't created equal, which means you'll likely spend hours on end trying to decide on one that's right for you.
Luckily, we're here to help you cut through the BS so you can choose one of the highest quality pre-workout supplements on the market.
Just one of your choices is Pre Lab Pro – a supplement that describes itself as a 'Next-Gen Pre-Workout Formula.'
On paper, that sounds fantastic, as most of you will probably agree. But is this pre-workout all it's cracked up to be?
In my complete review of Pre Lab Pro, you'll find out the answer to that very question as I summarize its formula, benefits, price, and much more.
So with no further ado, let's get to it!
What Does Pre Lab Pro Do? – Overview Of Its Benefits
Allowing you to 'go longer, finish stronger, and get a big head start on muscle recovery,' Pre Lab Pro is marketed as a supplement that will help take your workouts to a whole new level.
Described as having a revolutionary pre-workout design, Pre Lab Pro works by targeting the three following pathways –
Bigger Nitric Oxide (NOX)
Smarter Stimulation
Smarter Homeostasis
Thanks to the above, Pre Lab Pro allows users to enjoy a far more productive workout by keeping you focused, alert, motivated from beginning to end.
And because of its versatile and efficient formula, Pre Lab Pro can also positively affect your fitness goals ranging from strength to cardiovascular to overall health.
That's just a taste of what this particular pre-workout can do for you if you choose it above the rest. 
But to find out exactly what ingredients you'll find in Pre Lab Pro, you'll just have to keep on reading, as that's exactly what the next section is all about.
Pre Lab Pro Review—Ingredients
The information provided on the official Pre Lab Pro website certainly gives you the impression that this pre-workout supplement is all about its high-quality, next-gen formula.
That's all well and good, but what exactly does its formula comprise? In this section, that's what you'll find out. Before we dive in, here's the supplement facts label for your reference: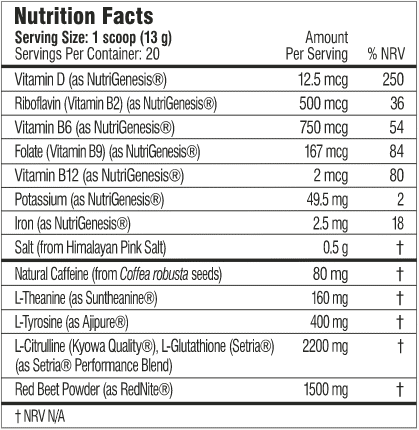 Natural Caffeine – 80mg
It's pretty common to see caffeine included in pre-workout supplements. But is it any wonder as to why? 
After all, its many benefits include increased focus, alertness, and motivation – all backed by countless studies.
The problem is that many pre-workouts on the market include mega doses of caffeine equivalent to consuming 2 or 3 cups of coffee in one go, sometimes more!
You might just think that more is better. But when it comes to caffeine, the opposite is most definitely true.
That's why Opti-Nutra included a moderate dose of caffeine in Pre Lab Pro, so you can enjoy the benefits of caffeine without having to worry about jitters or energy crashes.
Feel like you need an extra boost? Then the manufacturer says it's safe to go for a double scoop which is perfectly safe to do thanks to the sensible dose of caffeine. 
Just don't take any more than two scoops in any 24-hour period as per the manufacturer's instructions.
L-Theanine – 160mg
If there's one ingredient that goes hand in hand with caffeine, it's L-Theanine. 
Helping to amplify the benefits of caffeine while keeping side effects to an absolute minimum, this particular ingredient promotes clean, calm stimulation and clarity.
As a result, you're able to focus far better than before, allowing you to stay in the zone from the very first moment of your workout to the last.
A 2010 study (1) even confirmed that the combination of L-Theanine and caffeine improves cognitive performance and increases subjective alertness.
So, it's easy to see why Opti-Nutra decided to include L-Theanine and Caffeine in conjunction on the ingredients list of Pre Lab Pro.
L-Tyrosine – 400mg
The problem with caffeine and intense training is that each of them can deplete neurotransmitters considerably.
This can often leave you feeling worse off than before you took your pre-workout and might prevent you from getting the productive workout you hoped for.
Thankfully, L-Tyrosine steps in to save the day by sharpening focus under stressful situations and maintaining neurotransmitters throughout even the most challenging workouts.
L-Citrulline – 2200mg
When it comes to working out in the gym, there aren't many better feelings than achieving those incredible pumps during intense lifting sessions.
Suppose you're someone who loves that feeling. In that case, L-citrulline is definitely an ingredient that will float your boat, as studies show it can increase oxygen content in the muscles and have a positive impact on exercise performance.
Whether you're training for endurance or simply love to lift weights, L-Citrulline can undoubtedly make a massive difference to your training and may even lead to faster muscle growth.
Red Beet Powder – 1500mg
Designed to 'turbocharge' nitric oxide levels in the body, Red Beet Powder can provide a substantial muscle-pumping blood flow boost.
Compared to plain beetroot, this particular ingredient can provide 25X nitrate, which will undoubtedly go a long way in helping you make the most out of each and every rep.
Other Ingredients in Pre Lab Pro
Vitamin D (as NutriGenesis®), Riboflavin (Vitamin B2) (As NutriGenesis®), Vitamin B6 (As NutriGenesis®), Folate (Vitamin B9) (As NutriGenesis®), Vitamin B12 (As NutriGenesis®), Potassium (As NutriGenesis®), Iron (As NutriGenesis®), Salt (from Himalayan Pink Salt)
Find out more about this supplement's formula –
Visit PreLabPro.com
Does Pre Lab Pro Have Any Side Effects?
The whole point in taking a pre-workout is to elevate your game in the gym and help you get the most out of each and every workout. 
But if it leaves you feeling sluggish, or causes any other unwanted side effects such as jitters and energy crashes, then you're gonna want to stop using it pretty sharpish.
Luckily, Pre Lab Pro stays true to Opti-Nutra's clean, safe, and natural approach to their supplements by only using science-backed ingredients in clinically proven dosages.
As a result, side effects are kept to an absolute minimum even when taking this supplement regularly. This is all thanks to Pre Lab Pro being:
Vegan-Friendly
Allergen-Friendly
GMP Certified
Banned Substance Tested
Gluten-Free
Soy Free
Synthetic Additive Free
Non-Irradiated
Free From Artificial Flavors and Sweeteners
Non-GMO
Not only that, but the 80mg dose of caffeine is just the right amount for those in search of a little extra boost without the inevitable crash that comes afterward.
That being said, you can also go for an extra scoop to increase potency. As mentioned, this is perfectly safe to do as long as you don't take more than two scoops in a 24-hour period.
How to Take Pre Lab Pro
As the name suggests, a pre-workout is designed to be taken before taking part in your workout – usually around 30-60 minutes beforehand for best results.
Taking Pre Lab Pro is no exception to this, with the manufacturer Opti-Nutra suggesting users take this supplement around 30-45 minutes before their workout.
If desired, you can even take Pre Lab Pro using a split-dosed approach whereby you take an extra scoop intra-workout.
As we said in the previous section, it's perfectly safe to do this as long as you don't exceed the maximum dose of two scoops in any 24-hour period.
Where To Buy Pre Lab Pro
Like all other supplements in Opti-Nutra's growing range, such as Burn Lab Pro and Mind Lab Pro, you can only buy directly from the manufacturer's official website.
Some may find these slightly inconvenient in that you can find many supplements on online marketplaces such as Amazon and eBay these days.
The problem with that is you might well end up with a counterfeit product that will not only leave you out of pocket but also potentially put your health at risk.
So, do your wallet and well-being a favor and only buy direct from the Pre Lab Pro website. Besides, the shipping is fast and free worldwide if you opt for the 3-month supply offer. A nice bonus is that you get an extra tub for free with this option!
Get the best price, visit:
PreLabPro.com
Conclusion – Is Pre Lab Pro Worth Buying?
It's safe to say that choosing a pre-workout, or any other supplement for that matter, is easier said than done in the current day and age because of the vast amount of choice at your disposal.
But now that you've read our complete Pre Lab Pro review, you'll be equipped with the knowledge you need to decide whether you should part with your hard-earned cash to choose this particular pre-workout above the rest.
To summarise, we'd go as far as to say this is one of the highest quality pre-workouts we've come across, with its science-backed formula ensuring you can take your workout game to a whole new level – safely and naturally.