Physical activity should be an essential part of our everyday lives if we want to remain fit and healthy and hopefully live longer.
A good diet and plenty of exercise are great places to start, but we often overlook a crucial part of maintaining a healthy and balanced lifestyle.
Professional athletes and men and women from all walks of life have, for years, been taking one supplement or another, hoping to enhance physical performance. With very little attention being paid to cognitive functions.
But what if I told you there was a nootropic supplement that can target specific areas of brain health, such as blood flow and nerve growth, while also improving focus, memory and delaying the onset of cognitive decline?
You'd probably be impressed, right? Well, let's take you from impressed to staggered by telling you that Mind Lab Pro from Opti-Nutra does all these things, unlike other supplements that only focus on individual parts.
Continue reading as I give you the lowdown on this supplement in my complete Mind Lab Pro review.
What does Mind Lab Pro Do?
Like the body, the brain needs nutrients, and even more so as the body enters later life. As well as nutrients, rest is essential to the brain if it wants to retain memory, focus, and keep track of new information.
How do you get these nutrients, and more importantly, how do you get all the nutrients to improve mental performance? You get them when you take Mind Lab Pro.
But what makes this nootropic stack from Opti-Nutra so unique and beneficial is the eleven high-quality ingredients it contains. These work in six bio-pathways, all of which contribute to the brain's performance.
So, what are these ingredients, and how do they contribute to brain health?
In the next section, that's exactly what we'll look into.
Mind Lab Pro Review – Ingredients
In the following section, I'll delve deeper into the formula that Mind Lab Pro uses. But before I do just that, here is the supplement facts label for your reference: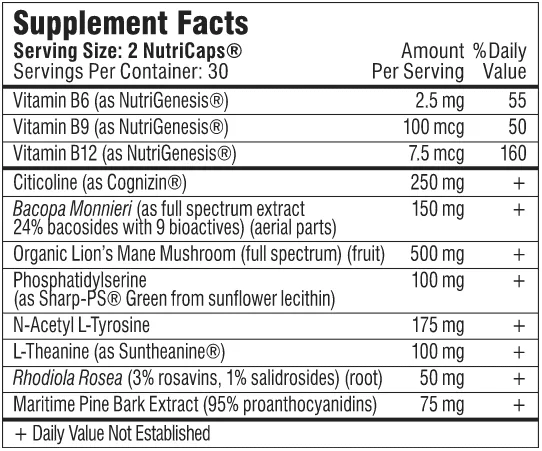 Firstly, Mind Lab Pro contains 250 mg of Cognizin, which is both a recognized and patented form of Citicoline. 
Not only is this the most impressive ingredient, but it also has the most research to back up its claims. 
Although studies have mainly concentrated on brain function in the declining years such as Alzheimer's, it also helps improve cognitive function, increase memory, and assist in the regeneration of the brain after injury.
The 100 mg of Phosphatidylserine (as Sharp-PS-Green) in Mind Lab Pro helps boost memory and stimulate attention span. Cell proteins in the brain deteriorate with age; this ingredient can help counteract this process.
Bacopa is considered one of the greatest natural memory enhancers out there. So you'll be glad to know it's found in Mind Lab Pro. The 150 mg will help with better memory retention and help recall both accuracy and speed.
Lion's Mane Mushroom will stimulate nerve growth in the brain. The 500 mg dosage is the perfect daily dose to reap most of the benefits, including maintaining our cognitive performance as we get older.
N-Acetyl-L-Tyrosine can elevate our cognitive performance when we might face situations of extreme stress.
The 100 mg of Theanine as Suntheanine in Mind Lab Pro is a mood enhancer and focuser. It also helps you relax and boosts creativity. 
It goes excellent alongside coffee as well, so you can get a double whammy of a boost in the morning if you feel like you need an extra kick.
Your stress level will reduce, and your moods will change for the better with the help of the 50mg of Rhodiola Rosea found in this nootropic. It will also help calm the mind, meaning you will be able to focus more clearly.
Vitamin B6 comes in with a 2.5 mg dose, which will regulate melatonin levels. These can affect our moods and body clocks.
Vitamin B9 is next in a 100 mcg dose and is also called folic acid, which is crucial for proper brain function and is very important in our mental and emotional health. 
A Vitamin B12 deficiency has been linked to cognitive decline and gloomy moods.
The Opti-Nutra NutriGenesis® form for the vitamin B12 used in this brain supplement is nature-identical, meaning they are just as easy to absorb.
Finally, the 75 mg of Maritime Pine Bark Extract found in this nootropic supplement is one of the most formidable antioxidants. These antioxidants have continuing health benefits to the body and brain cell membranes.
Does Mind Lab Pro Have Any Side Effects?
Most people can take Mind Lab Pro with no issues, as all 11 ingredients in this supplement are safe and well-tolerated.
Instances of side effects are extremely rare, but if you do experience any when taking Mind Lab Pro, you should downregulate your dosage. 
Side effects can include headache, nausea, slight diarrhea, sleep problems, and slight mood swings.
With that being said, Mind Lab Pro is free from artificial colors, GMO, gluten, caffeine, additives and preservatives.
Even its capsules are good for you too, as Opti-Nutra opted to use premium NutriCaps® which are prebiotic-infused and vegan-friendly! 
How to take Mind Lab Pro
For best results, it's recommended that you take two capsules of Mind Lab Pro in the morning or early afternoon.
But on those days where you face intense cognitive demands, i.e. during exams, taking on a busy day at work, or taking part in a workout, you can safely increase the dosage to four capsules.
Just remember to lower your dosage from four capsules back down to two if you begin to suffer from any side effects.
Whatever the case, it's always worth speaking with a medical professional before taking a supplement like Mind Lab Pro if you have any health concerns.
That way, you'll know for sure that you can safely take Mind Lab Pro and that it won't interact with any medications that you may be taking.
I'd also recommend 'cycling' with Mind Lab Pro if you're looking to make the most out of this supplement. This is because you'll eventually build up a tolerance by taking it for lengthy periods, just as with many other supplements.
To prevent this from occurring, simply follow a 4 weeks on, 1 week off schedule. Alternatively, you could do 5 days on, 2 days off.
What Are The Reviews of Mind Lab Pro Like?
Given it allows you to achieve a state of peak overall mental performance with 11 science-backed nootropics, it's safe to say that Mind Lab Pro is the most premium and well-rounded cognitive enhancer on the market.
Other Mind Lab Pro users across the globe can attest to this, as it continually receives raves reviews.
So, if you do decide to buy it, you can rest safe knowing that you'll be getting a high-quality product that works incredibly well for many other people around the world.
Where Can You Buy Mind Lab Pro?
For quality assurance, Mind Lab Pro is only available directly from the brand's official website.
While some may find this inconvenient when compared to buying from an online marketplace such as Amazon or eBay, it's the only way you'll know for sure you're getting the real deal.
Thankfully, the manufacturer Opti-Nutra offers fast shipping to all four corners of the globe, which is totally free on all orders over $195.
One box of Mind Lab Pro will set you back $65. And while this is undoubtedly at the high end of the market, you get a premium product that 'does exactly what it says on the tin'.
Besides, if you want to cut the cost per box down to just $48.75/bottle, there is a bulk-buy offer you can take advantage of, which comes with fast, free worldwide shipping.
And thanks to the 30-day satisfaction guarantee, you can get in touch with the friendly customer service team for a full refund in the unlikely event that you don't get the results you were hoping for.
Who is Mind Lab Pro For?
Mind Lab Pro is ideal for athletes, professionals, competitors, and anyone else who needs to improve brain health and mental performance.
Unlike the other nootropic supplement in Opti-Nutra's line-up – Performance Lab Mind, Mind Lab Pro is an all-in-one solution that covers all bases in terms of cognitive enhancement.
What makes it even better is that it contains no stimulants, so you don't have to worry about unwanted side effects such as jitters or energy crashes that come along with the consumption of caffeine and other stimulants.
Mind Lab Pro Review Conclusion – Is It Worth Buying?
So, that concludes my complete Mind Lab Pro review!
If you've reached this point, you'll now know everything there is to know about this supplement and can confidently decide whether it's the right nootropic for you.
Having tried and tested this universal nootropic myself, I can wholeheartedly say that it's the most well-rounded and premium nootropic supplement I've tried. 
And thanks to its use of 11 research-backed nootropics, it's perfect for anyone looking for an all-in-one cognitive enhancer.
But for those looking to create a custom nootropic stack, I'd recommend checking out Opti-Nutra's Performance Lab Mind, which you can safely combine with other Performance Lab supplements, including Stim and Sleep.