A balanced and healthy diet has never been more critical than now, and with new scientific research, we can get even closer to determining precisely what kinds of food are good for us.
The health benefits of one fatty acid have come into prominence recently: Omega-3. Its ability as an anti-inflammatory agent is well documented.
It is especially important for athletes to optimise their diets, so they should add to their Omega 3 intake with a high-quality Omega-3 supplement and at least six ounces of fatty fish a week.
What is omega-3 supplementation? How does it affect your athletic performance? How much should an athlete take?
Want the answer to these questions and more? Read on and find out what Omega 3 is, what it does for an athlete, where you can get it, and how much an athlete should have every day!
What is Omega 3?
Omega-3 is a fat that has many health benefits, including:
Improved heart rate
Aiding weight loss
Protection against heart disease
Maintaining a healthy pregnancy
Providing important nutrients (vitamins A and D)
Omega-3 is usually made up of three different types of acid. These are ALA (alpha-linolenic acid); EPA (eicosapentaenoic acid) and docosahexaenoic acid – DHA.
ALA is the most essential of these, as it is used to create the other two, and the human body doesn't produce it naturally. Instead, must ingest it in our normal diet.
However, EPA and DHA have much more direct health benefits, so are very important to generate too.
What is Omega 3 supplementation?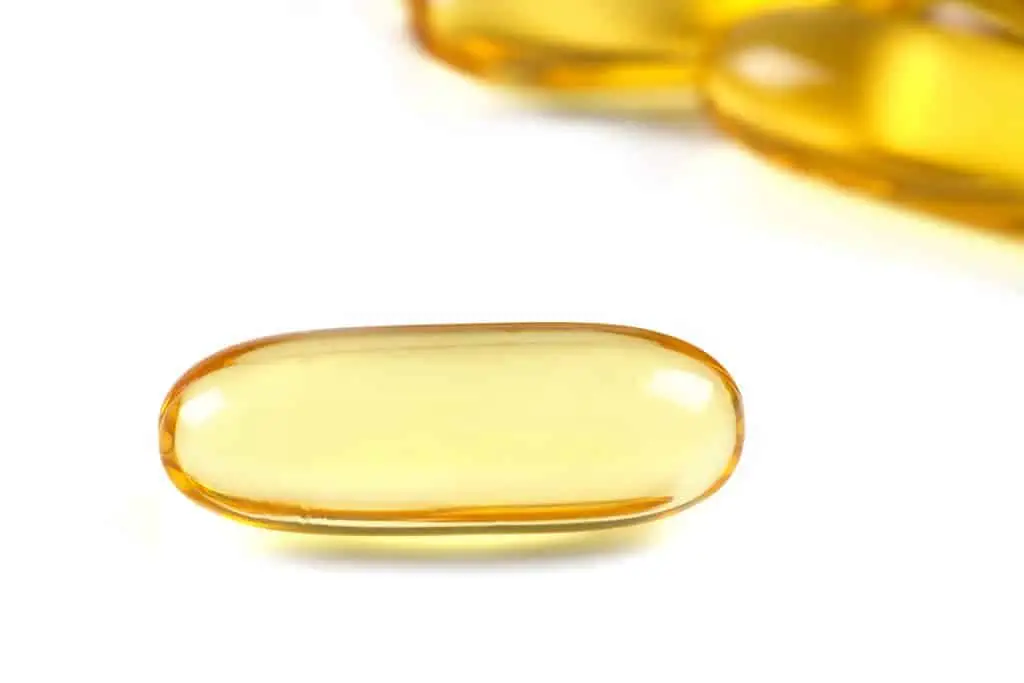 Our regular diets sometimes do not include enough Omega 3. If you are looking to supplement your Omega 3 intake naturally, you can try adding these kinds of foods to your diet:
Vegetable oils (rapeseed, linseed and flaxseed)
Nuts (like walnuts, pecans or hazelnuts)
Leafy greens (spinach, kale etc)
Fatty fish (like salmon)
However, if these ingredients are unavailable or too expensive, you can use dietary supplements to increase your Omega 3 intake.
There are many to choose from on the market, and they are safe to consume daily to increase your intake.
The problem is that fish oil Omega-3 supplements could potentially be sourced from fish which have absorbed mercury, heavy metals, PCBs, or toxic contaminants.
Luckily, there's the perfect solution to this, and that's choosing an all-natural, Omega-3 supplement such as Performance Lab Omega 3, which uses Omega-3 from a superior source – algae.
To find out more, simply check out my complete Performance Lab Omega 3 review right here on TheSportWriter.com.
Why is Omega 3 important for athletic performance?
This article has already covered a list of some health benefits of Omega-3. There are even more reasons an athlete may want to take it!
The Journal of Athletic Training found that a large portion of younger players of American football was lacking in Omega-3 in their diets, and as a result, did not have a reduced risk of heart issues provided by Omega 3.
They put forward the argument that the importance of Omega-3 should be emphasised heavily in education and policy – not just in diet education, but in the importance of supplements.
This journal also found that alongside the cardiovascular benefits of Omega-3, it could protect against memory loss – very important for the high head impact sport of American football.
In general, it is also known for reducing inflammation considerably, which is very important for athletes who are more likely to have inflamed muscle tissue through exercise.
Click here to see the best vegan omega-3 supplement without carrageenan
How much should athletes take?
The recommended minimum daily intake of both EPA and DHA together is 250mg.
However, an athlete may require a lot more than that, so the upper limit is 3000mg a day. Both supplements and changes in diet can boost this, but there is one very important piece of information to consider.
Please get the advice of a medical professional before making a significant change in your diet.
Whilst Omega-3 intake is definitely essential, even if you are an athlete, your diet may be sufficiently rich in Omega-3 already. Seek advice as to whether or not your diet is okay before taking supplements.
A good way to boost your intake in an effective anti-inflammatory way is to make sure you have your weekly Omega 3 rich fatty fish as your post-workout meal to aid potentially inflamed joints and muscles.
References
British Dietic Association. "Omega 3 Food Fact Sheet" (https://www.bda.uk.com/resource/omega-3.html) [accessed 09/10/2020 at 14:14]
Journal of Athletic Training. "Omega-3 Fatty Acids and Student-Athletes: Is It Time for Better Education and a Policy Change?" (https://www.ncbi.nlm.nih.gov/pmc/articles/PMC6410983/#i1062-6050-54-1-5-b04) [accessed 09/10/2020 at 15:08]
Cleveland Clinic. How Omega 3 Foods Can Help You Be a Better Athlete;. (https://health.clevelandclinic.org/how-omega-3-foods-can-help-you-be-a-better-athlete/) [accessed 09/10/2020 at 15:16]