Performance Lab® Omega 3
$49.00
Pros
Safe to consume daily
Features high-quality and science-backed ingredients
Superior algae-sourced alternative to fish oil Omega-3 supplements
GMP-Certified, Caffeine-Free, and Non-GMO
Eco-Friendly
Cons
Only available directly from the manufacturer's website
Higher price than other products on the market
Is Performance Lab Omega 3 the superior choice among Omega-3 supplements? Indeed, it is!
Sourced directly from algae – the original Omega-3 powerhouse – it surpasses common fish oil options in terms of purity, potency, and sustainability.
If you're an athlete or health-conscious individual seeking an edge, you'll find this review worth your time.
Dive in to my full Performance Lab Omega 3 review to learn more!
What does Performance Lab Omega 3 Do?
As one brand under the premium supplement company Opti-Nutra, Performance Lab prides itself on using only the best, most natural ingredients in its supplements – Omega 3 included.
In fact, Performance Lab Omega 3 goes a step further when compared to other Omega-3 supplements on the market.
It does just that by delivering the original source of Omega-3s in nature – algae, which requires less processing and is therefore far superior to fish oil-based supplements in more ways than one.
Here are just some reasons to choose Performance Lab Omega 3 over fish oil supplements:
Vegan-friendly
Pure, clean and premium with a superior shelf life
Supplied in NutriGels®, the world's first vegan softgel that is made from 100% natural tapioca
Not only does this brand boast several high-quality supplements including Stim, Flex, and Sleep, but there are also clinical studies that prove that its supplements work better than most name brands.
For one example, Nature's Bounty 1200 mg Omega-3 oil capsules only give 360 mg of Omega-3 acids (about 33% of the supplement is good stuff), whereas Performance Lab's 2,000 mg capsules give 1100mg of Omega-3 acids (over 55% of the supplement is the good stuff).
Performance Lab Omega 3 Review – Ingredients
In the following section, I'll summarize the formula used in Performance Lab Omega 3.
But first, here is the supplement facts label for your reference:
The biggest reason Performance Lab's Omega-3 specifically works so much better than its competitors is because it sources Omega 3 only from algae.
Why does this matter at all? Well, look at it like this: when you go to a grocery store, you're buying from the middleman (a farmer sells to the grocery who then sells to you).
In Omega-3s, the same thing happens. We eat fish thinking they are the primary source of Omega-3 fatty acids, but in reality, fish are only the middlemen.
The actual value comes from the algae that the fish eat. With its Omega 3 supplement, Performance Lab cuts out the fish and goes straight to the good stuff: the algae.
As a result, you get way more of the nutrients from Omega-3 than if you used an inferior fish oil-based alternative.
Using the direct source not only means more of the ingredient you want but also cleaner supplements: natural triglycerides taken from algae are easier for the body to absorb than those that another animal has already eaten and processed.
And thanks to the combination of DHA and EPA in Performance Lab Omega 3, you may even be able to benefit from reduced blood pressure and a decreased risk of hypertension, too.
Best Omega 3 Supplement
Performance Lab Omega 3
Boost your wellbeing with Performance Lab Omega-3. Pure, eco-friendly, in carrageenan-free NutriGels®. Optimal health is a click away. Act now!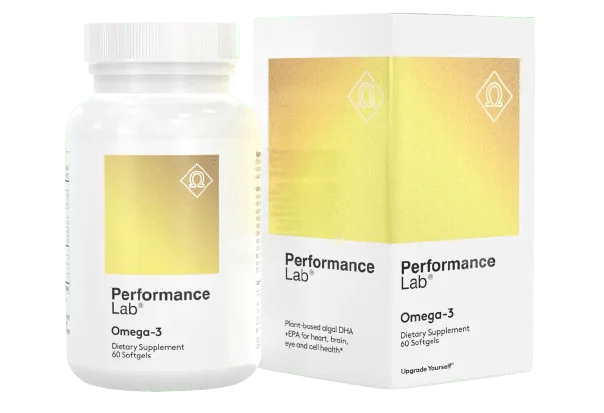 We earn a commission if you make a purchase, at no additional cost to you.
What Makes Performance Lab Omega 3 Unique?
The NutriGel® technology that Performance Lab Omega 3 uses is a large part of why this brand is skyrocketing over its competition.
NutriGels® happen to be the world's first vegan-friendly and 100% natural softgel, containing only 3 ingredients: tapioca, glycerin, and purified water.
As a result, you don't get any nasty stuff that other companies use to put the supplement's ingredients into a capsule.
They are also superior to other vegan capsules because of the use of tapioca for their softgels; other brands use red seaweed for vegan capsules, which has been linked to certain immune system issues.
Are There Any Side Effects of Performance Lab Omega 3?
As with any other supplement, it's always worth consulting with a medical professional if you have any concerns over whether you can take a certain product safely.
But any side effects of taking Performance Lab Omega 3 will be extremely rare. Plus, it is safe to consume daily and consistently thanks to its pure, natural ingredients that are appropriately dosed in line with clinical research.
How to take Performance Lab Omega 3
You can take Performance Lab Omega 3 safely long-term, with there being no need for cycling.
For best results, take 2 NutriGels® consistently with your first meal of the day.
I'd recommend combining Performance Lab Omega 3 with a high-quality multivitamin such as NutriGenesis® Multi too, as these two supplements go hand in hand while ensuring that you can get in your daily vitamin and mineral essentials with ease.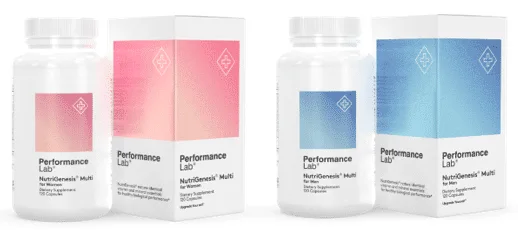 Where Can You Buy Performance Lab Omega 3?
If you'd like to buy Performance Lab Omega 3, you'll find that you can only do so from the official Performance Lab website.
While this isn't as convenient as buying from the likes of Amazon or eBay, you'll know for sure you're getting the real deal.
If you buy just one container, it will set you back $49 for a month's supply, placing it at the premium end of the market.
But given the clean, natural manufacturing process that Performance Lab prides itself on with each of its supplements, it's a small price to pay.
Besides, if you'd like to save some money, you can bring the cost down to just $36.75 per box by opting for the bulk buy offer which gives you three months' supply plus one box free for the reasonable price of $147.
Another thing worth noting is that if you opt for the bulk buy offer, you get fast and free shipping, so you can get your hands on the supplement quickly for no additional cost.
Performance Lab Omega 3 Review Conclusion – Is It Worth Buying?
That concludes my complete Performance Lab Omega 3 review!
To sum things up, I can honestly say that this supplement is a refreshing change from the alternative products out there that favor secondary sources of Omega-3s such as fish.
As you'll now be aware, algae is undoubtedly a far superior source of this essential nutrient.
So, it's easy to see why the folks over at Opti-Nutra included this abundant and eco-friendly source of Omega-3 in one of its latest supplements to enter the market.
And the best part is, Performance Lab Omega 3 isn't extraordinarily expensive like you see with most all-natural things coming out these days.
In fact, if you buy in bulk (which you always should), Omega 3 from Performance Lab comes in at a similar price to many of its competitors who claim to be 'all-natural'.
Overall, it's safe to say that Performance Lab is definitely one of the most reliable and transparent supplement companies on the market, which makes Omega 3 a worthwhile investment if you're looking for a clean, natural, and effective Omega 3 supplement.
Feel free to check out my reviews of other high-quality products in the Performance Lab range including Protein, Flex, and Stim, right here at TheSportWriter.com!